Per their arrangement, when Microsoft acquired Nokia's mobile phone division, Nokia can't sell mobile phones anymore. Nokia no longer can make handsets with Microsoft's still-struggling Windows Phone platform, nor will they.
But that doesn't mean they can't do other things to get at Microsoft. And they did just that today.
Meet the Nokia N1 tablet, dear readers.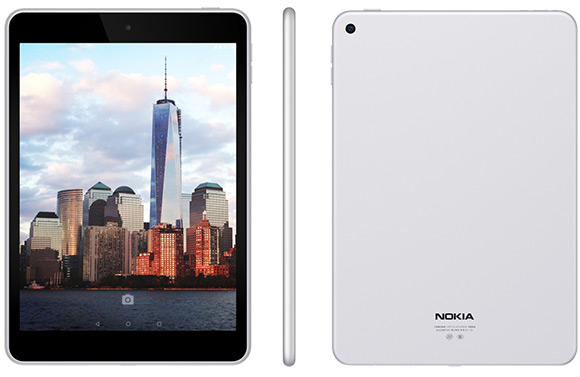 At $250, the N1 brings performance with a unique taste of Android (photo cred: GSM Arena)
What was teased with a mysterious image that nearly screamed "we're building a WMD and George W. Bush looked at the wrong country" ended up being a reveal of a tablet that marries the still-fresh Android Lollipop OS with the power of a 64-bit Intel processor, which makes it the second Lollipop tablet to do so (the first being the Nexus 9, albeit powered by the Nvidia Tegra K1 and clocking in at 2.3 GHz). The In
tel
Atom Z3580 inside barely nudges that at 2.4 GHz and features a very attractive 2 GB of RAM with a super-rad GPU. The screen size itself measures in at 7.9", which I've found is a nice screen size for me since I like using my Granny's Galaxy Note 8.0. It features an 8 megapixel rear camera and a 5 megapixel forward camera, neither of which have flash, though I doubt you'll need flash because taking pictures with your tablet is just tacky and annoys other people trying to use their phones or cameras to get pictures or video. Nonetheless, those are certainly nice touches. The default storage capacity is 32 gigabytes with no option to expand onto a microSD card, but it's still very reasonably priced and allows it to be a thin and overall lightweight tablet according to the specs sheet.
What makes this tablet stand out is that it will launch with Lollipop, but with a launcher over it called Z Launcher. The Z Launcher seems to be a very smart customization; it will learn your habits and customize itself for you, and you can search for apps by drawing the first letter on the screen. I have to wonder if you can deactivate Z Launcher since you can download it in the Google Play Store (which I will be reviewing here as soon as I can get my paws on it). It would be really nice if you could do that since manufacturers like Sony, HTC, and Samsung pre-bake their UI onto Android, and if Nokia does only make the Z Launcher a mere launcher over the main OS, then that will mean prompt updates to the newest versions of Android. Hmm....
Looking at the N1 from a distance, you'll mistake it for an iPad mini 3, and it does bear a striking resemblance to the Apple slate. It even comes in two similar colors, a dark grey and a soft off-white.
Other notable features include the Type-C microUSB plug-in on the bottom, meaning you'll never, ever, ever, ever, EVER have to flip the charger over to guess at which way it goes in. If you didn't believe there was a God before now, sing thy praises unto Heaven.
I can genuinely say that I am excited for Nokia here. I hated that Microsoft took away their branding rights for phones, but here's Nokia's chance to really make a new mark after years of not doing so hot. Needless to say, when the N1 tablet launches in 2015, I'll definitely be watching.
-M