Google has had a serious case of no chill within the past 24 hours. Shots have been fired
today at the I/O Conference and all the cannons just won't stop reloading and firing. Here's the skinny on today's conference: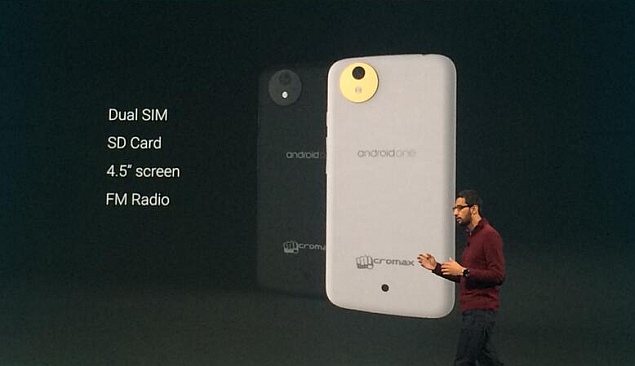 (photo credit: gadgets.ndtv.com)
Android One: A Universal Standard for Low-End Devices
The first bit of new shots that Google fired was the announcement of Android One,
a
universal platform of standards for manufacturers to create smartphones that could reduce the problem of fragmentation that many Android users are plagued with and be marketed to consumers who currently don't own a smartphone or who are in emerging markets, such as India. These phones are expected to retail for less than $100 USD, or around 6,000 Rs.
(photo credit: Terrence O'Brien, Engadget)
Android L and Material Design: In a material world...
Android's upcoming version codenamed "L" (Lollipop? LOLCAT? LulzSec?) was one of the many ways that Google showcased what it calls Material Design, a UI design system meant to be universal across all Android devices. A flatter design with soft edges and rounded shapes makes for a more appealing and easy on the eyes experience. Other features include two-step security verification with an approved Android Wear smartwatch, interactive notifications in the lock screen, and synchronized Chrome tabs between devices and desktops.
(photo credit: Samsung, via CNET)
Android Wear: LG, Motorola, Samsung, oh my!
As expected, the Moto 360 and the LG G Watch made appearances at today's conference, with the Moto 360 being slated for release later in the summer and with no price tag yet. The G Watch can be pre-ordered now and will leave warehouses by July 3rd. Samsung surprised many people by showing off the Gear Live today, which can also be preordered now and will ship on July 8th. Features range from fitness tracking and messaging to navigation and pizza ordering.
Chromecast and Android TV: On-screen goodness for EVERYONE!
Chromecast is expected to get some well-needed updates this fall, such as direct connections to Android devices without the need for a shared Wi-FI network as well as entire-device mirroring. Meanwhile, Android TV marks the big G's third attempt at getting Google on TV via set-top boxes, using information from your Android devices to find what you want to watch.
Chromebooks: Neat tricks! Great stuff!
Chromebooks will soon have many of Apple's features that will be released this fall, such as phone mirroring and flow of apps from an Android L device to Chromebook. This makes Chromebooks more compelling to own for the home or cloud-connected office, and it will give tech-heads like me a big 'ol smile.
Android Auto: Vroom-Beep! What?
Finally, Google announced its own answer to Apple's CarPlay system. Android Auto will display at-a-glance information in a Google Now-esque card format, granting you access to directions, quick reminders, and driver-oriented phone usage while on the road. 48 auto makers and electronics venders within the Open Automotive Alliance have all come together to help bring Android Auto to life and into cars soon.
My thoughts?
YASSSS GOOGLE YASSSS. Now, just confirm to me if the watches can take and make calls and we're set bby.
-M